Do you often experience the typical dilemma: I wanna go from A to B, what's the best way?
We are sure travelers, by definition, have faced it several times in their life. Whenever we want to reach a destination, as we start planning the journey, we search for the transportation options we have to go there. Then, through an evaluation of several factors such as budget, time, availability, etc. we eventually determine our final decision, and… let's go!
The question is: are you considering all what should be taken into account for getting the best out of your journey?
We recently had the same thoughts when, being in Buenos Aires (Argentina), we wanted to reach Montevideo (Uruguay). We looked for the best transportation option through an analysis that includes several factors such as mingle with locals by traveling in the way they do it, get the best experience out of the journey, travel with the minimum impact for our pocket and for our Planet. 
Probably your next trip won't be exactly the same, but it doesn't matter. A similar analysis can be applied to any other journey you are about to undertake. Obviously, the relevance is higher if the options to reach your A-to-B are comparable to those of our example, which are:
Combo ferry – bus

Direct ferry

Plane
The primary reason for preferring the first option is to save money.
There are three ferry companies, Buquebus, Colonia Express  and Seacat .
All take you by ferry to Colonia (del Sacramento) and then onto Montevideo by bus.
Otherwise, the company Buquebus provides also the option of a direct ferry from Buenos Aires to Montevideo, which allows you to save quite some time but it is also about double the price.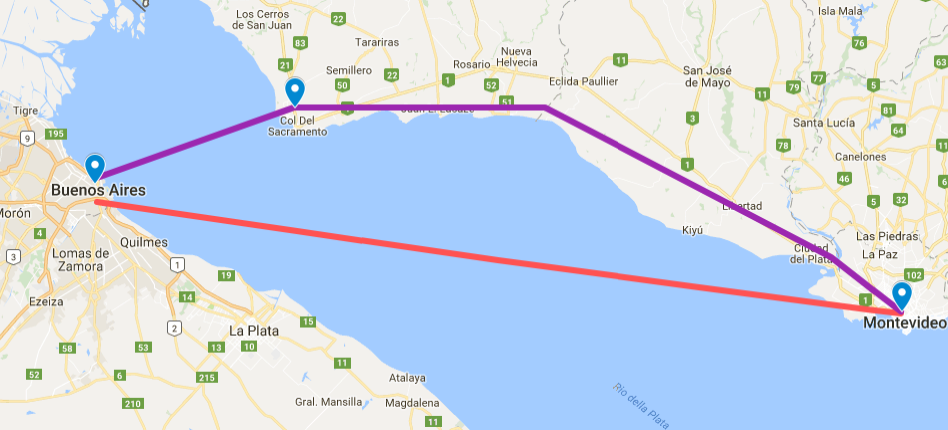 The third option is a 50 minutes flight that connect the airports of the two South American capitals. However,
– Plane tickets are usually more expensive.
– The airport is 30-40 minutes from the centre of Montevideo, while the port is right in the city centre.
– In the southern winter time, the airport in Montevideo is frequently fog-bound in the mornings, leading to delayed or cancelled flights.
Most likely, a "standard" traveler would be happy with such comparison among the three possible options. But, is it all? We believe, No! Give it some more thoughts over… what else are you missing?
It's definitely important to understand the path taken by each of the above options as well as the amount of kilometers traveled. Open up the map and find it out; or even better, customize your map with drawings and comments using My Map – Google. Discover and feel your journey!
Then, knowing the amount of km and the means of transport, we can estimate the impact that each option has on the environment. How much are you contributing to air pollution, global warming, and so on?
The option of combo ferry (75km) – bus (215 km in total) will produce approx. 28 kg of CO2

The option direct ferry (206 km) will produce approx. 37 kg of CO2

The flight will produce approx. 55 kg of CO2
**For more details on the calculations look at the end of the article.
Did you expect this? The difference it's quite relevant. Indeed, if all of us would choose (when possible) to travel with the most environmental friendly option, this will have a positive impact on the global warming and related issues that our Planet is currently facing. That's why we believe the sustainability aspect should not be underestimated by any traveler during his/her traveling decision making process.
So, the option of a combination of bus and ferry will be a bit longer but eventually it's gonna be the cheapest for your pocket and the preferred one for the environment!
Well, guess what… there are even more benefits in choosing this option.
Surely, you will be surrounded by locals. People in South America are used to long distance travels therefore, while a five hours journey might scare a European, it is simply "normal" for a South American. In addition, the fact that it takes more time gives you the chance to meet more people that, most likely, are undertaking a trip with means and needs similar to yours. You can make new friends, get to know their story and share experiences. If you have enough time to make a stop in Colonia it's even better: you will be fascinated by its Barrio Histórico (historic quarter), designated a world heritage site by UNESCO, characterized by cobblestone streets built by the Portuguese in the 17th century, lovely caffe', typical restaurants and little shops.
Last but not least, another factor not to be underestimated whenever you have the chance to reach a destination by boat instead of flight is that coming into and/or leaving a city from the water gives you a unique view and time for deep reflections.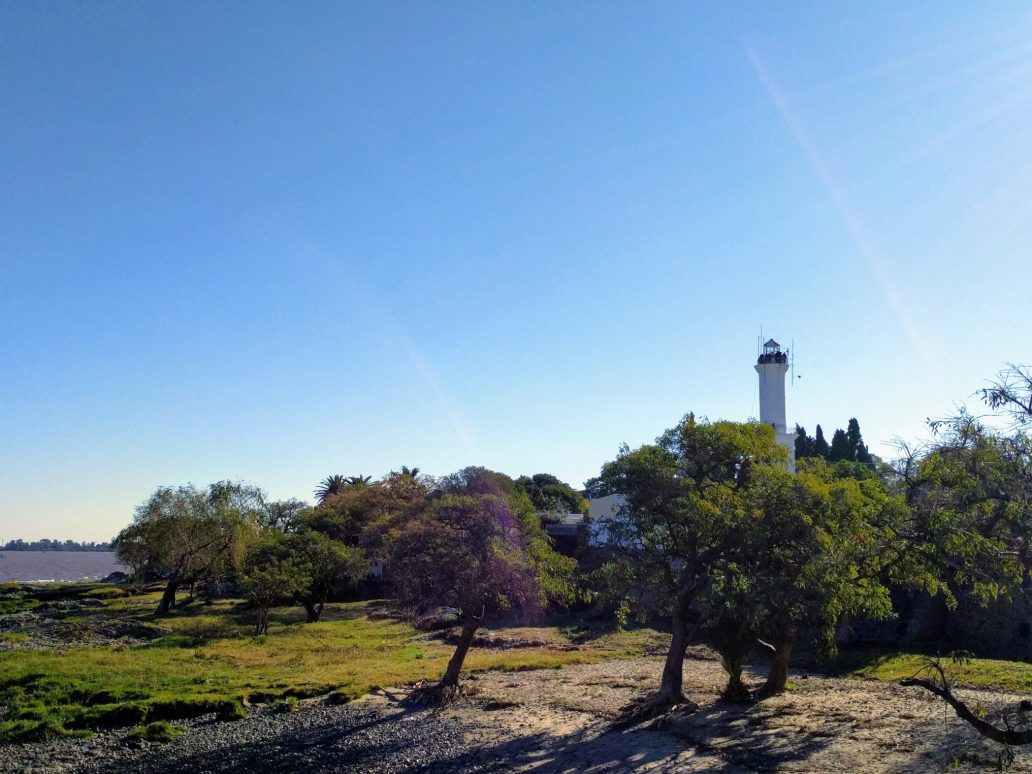 * Prices come from the ferry company websites and are referred to a one-way rate. The prices were in Argentine pesos and have been converted into US dollars with a small approximation. Prices include taxes.
** Figures denote kg CO2 per km per passenger:
option 1: 75 km x 0,12 (slow ferry) + 215 km x 0,09 (bus) = 28,3 kg
option 2: 206 km x 0,18 (fast ferry) = 37,1 kg
option 3: calculated using the ICAO (International Civil Aviation Org.) Carbon Emissions Calculator application – from: Buenos Aires (AR), EZE to: Montevideo (UY), MVD, One way, Economy Class, 1 traveler.
Writers:
Federica Patrizi
Find out more about the Habits team here

Last content update:
June 13, 2017